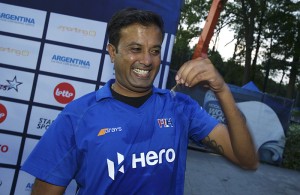 The big month for top umpires continues, this time with India's Raghu Prasad earning his spot on the FIH's Golden Whistle list for his appointment on the AUS v PAK game at the Fintro Hockey World League in Antwerp.
The immensely popular Prasad had this to say at the honour, achieved at the young age of 36:
It's an awesome feeling to reach this milestone as it is not an easy job for an umpire to reach that level," said Raghu. "I cannot express how I feel about it – it really is unbelievable.
On a personal note, having met Raghu at an FIH seminar in Sydney in 2003, the year we both started international umpiring, I'm delighted for him and hope to be able to cheer him on all the way to 200 matches.