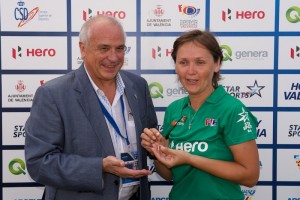 Hockey World League brings about another wonderful milestone, this time for Russia's Elena Eskina who achieves her Golden Whistle at the age of 39. She spoke about how far she's come in an article on FIH.ch:
I started umpiring in 2002, my first match was Germany against Argentina – two giants of the game. I felt so small. I was very uncertain and just felt I didn't know anything.
We all know how that feels as we experience it on every stage. Congratulations Elena, and well done!