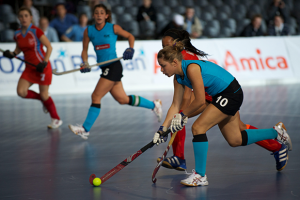 Some big changes to come in 2017 for the Indoor Rules of Hockey, as the FIH Rules Committee strives to continue to align the indoor and outdoor rules as much as possible.
The biggest change is the addition of a centre line ("corner") restart (why they can't start out fresh with the correct terminology is a mystery to FHumps), which will be awarded when a defender unintentionally plays the ball across the end line as in outdoor.
In addition, attacking free hits within 3m will be handled the same way as in outdoor, with the addition of being able to play the ball off the boards before entering the circle. The 1 minute green card suspension is also moved out of tournament regs and into the rules for everyone.
For those of you involved with Hockey5s, there are some interesting changes too. Read more…