#Askfhu is our ongoing series of posts that focus on a single umpiring issue that you may have been or likely will be faced with at some point in your career. We'll focus on giving you tangible and effective strategies to deal with the situation. We also want to hear about your experiences and suggestions so don't be shy, get your comments on below!
Last night, I was assessing a young an inexperienced umpire. She could spend the next 20 years contributing as an official the league, as long as she doesn't get scared off by the intensity and competitiveness of the top teams.
As I do, I asked her what she wanted to specifically work on for that game. Her reply: "I just want to make the calls. I see something, and I know I should call it, I want to actually call it."
Sounds simple, right?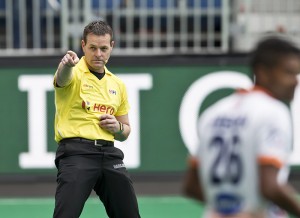 This deer-in-headlights feeling may be very familiar if you're just getting your umpiring career underway. If you've got some experience, think about how often you felt paralyzed in those early days. Your brain was in a whirl, going through the wording of the rule, and then the "buts", the "ifs" and the "ands", and finally…three incidents later, the ball is going the other way up the field and the players are you looking at you like you're an idiot.
Reacting is far to time-consuming. You don't have time to process all the information because you try to "re-see" the event, compare it against the wording in your brain, and then finally bring the whistle to your mouth and point in the correct direction.
So, I switched her focus. I asked her instead to think about her whistle timing. I reinforced that she knows the game and she knows the rules (and she does). I asked her instead to anticipate the fouls before they occurred. When she could see the ball carrier was about to be met by a defender, anticipate that the defender was going to miss the tackle because she's wrong-footed and which way that call would go. Having her whistle at the ready at that moment, she'll be blowing as the foul was happening.
Suddenly it wasn't about reacting, but reading. Her eyes lit up. "Ooh, I like that!" she said.
As the play is building, she can apply her skills as a player–this might go off a player's foot because her stick is in the air, for example–which gives her an additional second or two to plan blowing her whistle. She's ready for the call, just as a player is ready for the ball to pop through an intended trap. She's reacting just as quickly as before, just starting earlier.
I know you're wondering how her assessment went. Well, the first five minutes were lots of nerves and whistles coming slowly. Then, she seemed to give herself a shake and the calls came faster and faster. The players trusted the whistle would come, so the free hits were taken quickly, space was generated and there was real flow in the game.
Of course, she passed.
Do you have other tangible techniques you use to shake off whistle paralysis? Share them in the comments or on social media!