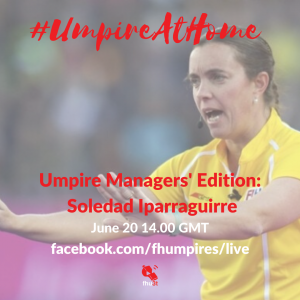 Beyoncé. Shakira. Hillary. Soledad.
#UmpireAtHome welcomes the legend who needs no second name, Soledad (Iparraguirre just for the SEO) on an Umpire Managers' Edition. After an unparalleled career on the pitch, Soledad now shares her experience and keen vision of the game with the next generation of FIH stars and a torrent of talent back home in Argentina. Soledad will reflect on the delights and challenges of umpire managing, what she's learned from her mistakes, and how her time at the very top of the game has shaped how she works with umpires on her teams.
Find all of our #UmpireAtHome videos on Facebook: https://www.facebook.com/watch/fhumpires/300088881161375/
The FHumpires Third Team (fhu3t) membership platform is now open! Access 100s of searchable clips, moderated discussion, private mentorship and so much more!
Please subscribe for more videos on field hockey umpiring, managing and officiating.
© 2020 FHumpires Ltd.
📅 June 20 14.00 GMT
💻 facebook.com/fhumpires/live
#thirdteam #fieldhockey #hockey #umpire #umpiring #FIH #FIHumpires #umpirelife #hockeyumpiretips #hockeyumpiringvideos #fieldhockeyumpiringvideos #hockeyedumpiring #hockeyumpiringrules
---
Resources – TBC