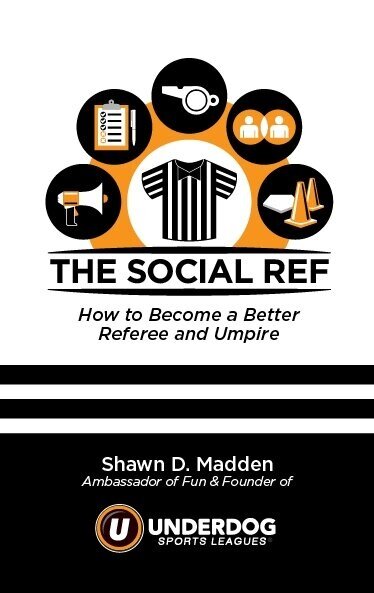 This week's pick, The Social Ref by Shawn Madden, is a relatively quick read with some interesting ideas on how a beginner could quickly become a good recreational hockey umpire, and you can improve your skills as you're moving up the ladder as well.
He takes a staged approach to starting to officiate a sport: phases like "Survival" and "Stabilize" focus on the soft skills you should prioritize at whatever level of experience you're currently at.
The book isn't sport-specific but tends to favour strategies most applicable the non-pitch invasion sports like baseball and basketball. However, there are lots of great nuggets we can apply to umpiring hockey as well.
Umpiring Big vs. Small
For example, in the second phase of "Survival", Madden presents another take on the well-known concept in hockey umpiring of "selling your decision".
Madden talks about how beginner officials often struggle with making big calls. In essence, our monkey brains shy away from the conflict that inevitably comes when we need to make a call 50% of the participants are likely going to disagree with, so we pull into ourselves and expose our doubt with our body language and communication. As Madden says,
Part of being [an umpire] is making calls and decisions with the best info and angle you have at the time. There is no instant replay like you get on TV. You have to decide and go in the moment. You need to [umpire] BIG, even when you are at 60%. Even when it's a coin flip, that will produce an automatic argument.
The idea is to focus on communicating your decision clearly, effectively and with strength. The hard calls are why you're there: someone is undoubtedly going to disagree with you no matter what you call, so you need to throw yourself at that conflict. Make your signals big, speak loudly and clearly, and hold your head high and shoulders back.
Knowing conflict is coming is one thing, but setting yourself up to calmly deal with the guaranteed storm in a way that keeps the players' confidence is the next.
It's a fun read with many ideas you'll be able to incorporate in your own umpiring or when you umpire coach others. Hope you enjoy!
---
The countdown is on for "Positioning For The Modern Umpire", a live interactive workshop on July 29, so don't sleep on it!
🔵🟢🟡🔴🏑
#mondaymotivation #hockey #fieldhockey #hockeyumpire #fieldhockeyumpire #rules #umpirelife #thirdteam #FIH #FIHumpire #rulesofhockey #rulesoffieldhockey #umpiring #umpiringlife #umpiringlessons #alwayslearning #fhumpires #fhumpirelife #hockeyvideo #fieldhockeyvideo #hockeyrules #fieldhockeyrules #arbitrohockey #regalodehockey #psychology #sportpsychology