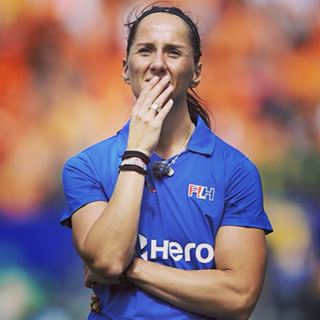 Awesomesauce blog Self-Pass recently published an article in which they interviewed three prominent hockey personalities and asked them a series of questions about our game. They were:
What would they change?
Would they change something at all?
Will they stop with all this permanent changes?
Every participant's views are worth a read but of course, we're most interested in hearing from South Africa's ace World Panel FIH umpire Michelle Joubert. She had the following contributions:
I think that field hockey is probably one of very few sporting codes which is constantly looking at changing the game, or the rules thereof, in order to make it more spectator-friendly and exciting to watch. Every year there seem to be experimental rules that are played over a period of time, from where the FIH will either accept the new rule, or revert to the 'old' rule.

My personal opinion is that we as a hockey community, regardless of being a player, spectator, coach or official, are on the right track to grow the community and hopefully, in the long run, provide field hockey the international status as a professional sporting code in many more countries than what we currently have.

From an umpiring point of view,  I would compare our tournament preparations to that of other officials from professional sporting codes such as football and rugby and it is clear that without proper funding we will never be as professional and well prepared for tournaments as what we would like to be. With our current structure and limited funding, I think we are doing a great job. It would be great if we could have Officials Training Camps, at least once or twice per year, prior to the start of major competitions, where we attend seminars, do fitness analysis, testing, training and umpiring matches to help us be as best prepared as we could possibly be, as a team, prior to entering the start of these tournaments. The objective of this training camp should be to provide all umpires equal opportunity to gain experience on the 'new rules' , video umpire referral system and also to build a TEAM based upon the rules, regulations and format of the tournament ahead.

I would also like to see a point where coaches, players, and/or teams have the opportunity to provide the umpires with constructive feedback, and perhaps even allow us, from an umpiring perspective, to share our views and/or experiences. This seems to happen on local grounds, but not at an international level.   The idea is to close the gap between umpires/officials and the coaches and teams, in order for all parties involved to have mutual respect and understanding of the game on all the different levels of involvement.

As officials/umpires, we are as passionate about hockey as any player, coach, manager, etc.  We would love to see our sport succeed in being recognized as an exciting and world class sport where we have increased number of participants from all over the world.
Do you agree that our sport would benefit as a whole from a more professional approach to selecting and preparing our international umpires? How about a structured system for communication and feedback between umpires and the players and coaches?
Read more: What would you change in Hockey? | Part 1 | Self-Pass